About Us

We are a family based small batch artisan coffee roasters in the Pacific Northwest. Keturah Coffee Roasters is located in the small destination town of Vernonia, Oregon just outside of Portland. Our goal is to roast high quality coffee fresh for our customers every time they order.
LOCATIONS
Our Website

R&S Market (Vernonia)


Made In Vernonia (Vernonia)

Trailhead Cafe (Banks)

Jim's Thriftway (Banks)

Red Apple (St. Helen's)

Lena's Coffee (Intel)

Familytime Vacation Rentals (Utah)

Rainbow River Lodge (Illiamna, Alaska)

At Illiamna Lodge (Illiamna, Alaska)
Our Story

Check out the great article about us in the local paper Vernonia's Voice. Thank you Scott for doing this.

Article about us in the Vernonia's Voice!

Keturah Coffee Roasters is a family owned small batch coffee roasting company. We started this company because we have a passion for good coffee and a desire to teach our children about entrepreneurship. It has been a fun and exciting process working together as a family to bring our customers an amazing cup of coffee.

I can still remember my first sip of Espresso. It was my first taste of coffee. I was about 10 years old. My cousin slipped me a cup of espresso he made with his little 25 dollar counter top machine and I was hooked. Ever since then, I have been obsessed with espresso and finding that perfect cup.

That pursuit of that perfect cup led us to start roasting our own coffee at home. We started in a frying pan, moved to a popcorn popper, then came the commercial roaster! It was natural for us to roast in our home. We like to serve healthy, fresh, quality food in our home. When friends come over we love sharing hand crafted sour dough breads, cheeses, and kumbuchas, kiefer, and anything else we could grow or craft in our home. My wife Kari and I have always loved to cook. Both of us grew up in the kitchen. To us, hand crafted is more fun, tastes better, and adds a special personal touch.

When it comes to Coffee we realized we could make fresher roasts, create higher quality flavor profiles and find that perfect cup created by our own hands. So we started our own hand crafted roasts. That took us on a journey to experience the world's coffees with their variety of flavors.

When we started Keturah Coffee we were simply offering our friends a chance to travel the world of coffee flavors together with us. Keturah coffee offers you the opportunity to join us experiencing the deep and earthy flavors of Indonesian coffees and the bright vibrant flavors of African coffees. Our Passion is in crafting fine blends from those regional coffees. The cord on blue chef has his spices. We like to bring the flavors of the coffee belt together in an effort to create harmonious blends to make a memorable cup.

While I do most of the roasting and bring my passion for that perfect cup to the company, Kari brings the bright and vibrant side to the company. With an infectious smile and driven personality she brings enthusiasm and passion to the companies' growth. We wanted to start a Hand Crafted roasting business that we could build around our family. We homeschool in a small town outside of Portland, OR and we wanted to build something our kids could be a part of.

Both of us wanted to build this company around friends, family and fun. Kari believes that coffee is a friendship experience. "People build friendships and relationships with the aroma of coffee in the air. We chose the name Keturah because it's a name that means 'fragrance.' I think the smell of our exclusive hand crafted coffee is a fragrance that creates friendship, builds family, and it's an aroma of fun."

~Samuel J. Hough Roaster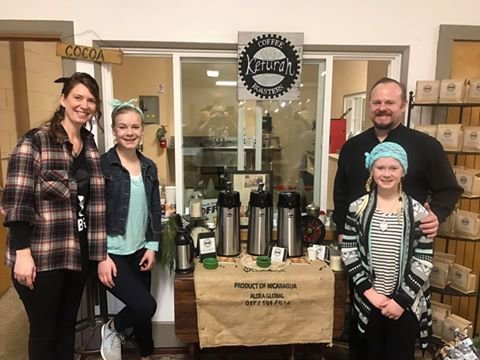 Please Be sure to visit us on Facebook and like our page
Our Keturah Coffee Roasters Facebook Page