Our Goal for this blog : To tell an honest story about our journey as family owned Micro-Roaster business

from the beginning.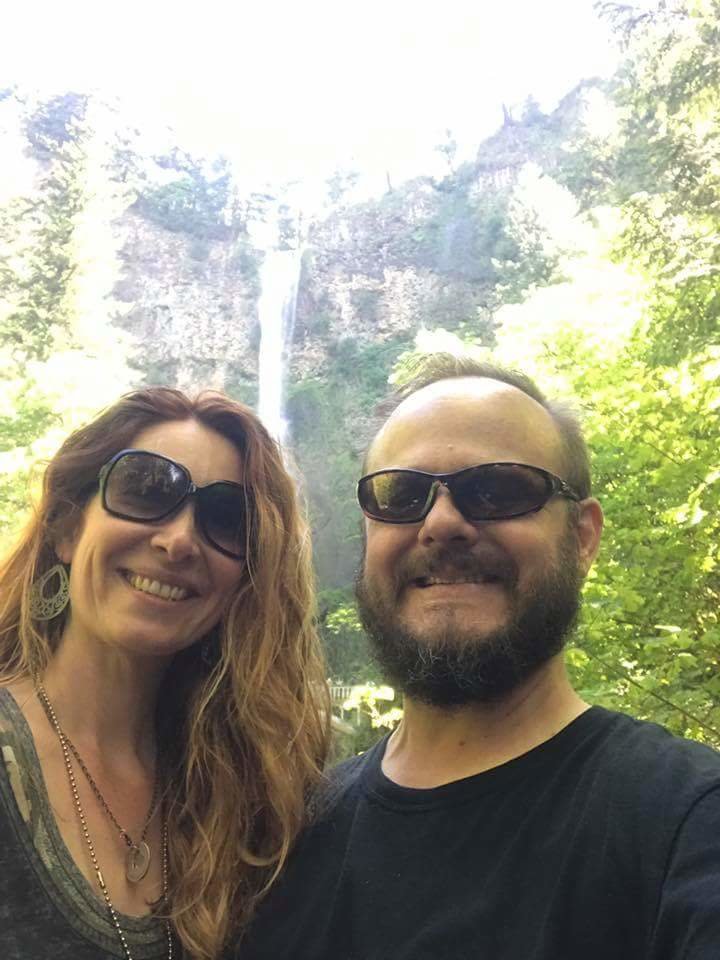 Our Coffee Footprint 1-26-18
Last year our footprint expanded. We are now reaching Banks, OR through Jim's Thriftway grocery store and the Trailhead Cafe. We are reaching amazing customers in St. Helens, Oregon through the Red Apple IGA market. We are continuing to reach out to our own town here in Vernonia through R&S grocery store, WeBakes bakery, and even the Martin Arms gun store in town has their own special blend. All that as well as our booth for Saturday Markets, the Jamboree booth, and the Salmon festival booth. We have also expended through Amazon as a grocery vendor selling to amazon and amazon business customers. Thank you to all of you who have been a part of Ketruah's growth this last year. We look forward to seeing what comes this year!
We also went more green. It has cost us more money but we think it will be worth it. We have transitioned almost all of our regional coffees to certified organic coffees from the same regions. As of now our Ethiopian, Sumatra, Guatemala, Uganda, Colombia, and Brazil Decaff are all Organics. Our standard Brazil is the only coffee still not organic. I just love the coffee and want to keep it.
This year my focus is going to be on learning opportunity cost and buying. Up till now we have built our business buying what we need when we need it. Our focus this year will be to calculate and time our buying to bring down our costs and increase the freshness of our products. We will be focusing more on buying coffee closer to harvest time and in greater quantities. I am really going to try to become more efficient in buying products like bags, labels, and supplies in greater quantities and saving money. This will be the year we really develop our buying patterns to build on in the future as we grow. It's going to be a great year for us!
7-19-2017
What a journey!
Thoughts from the wifey! We have been blessed! Thank you for supporting our family and sharing the Keturah love with your friends and family. We have been taking more and more baby steps in expanding this business and have been thoroughly enjoying it. Some things I've learned along the way.
1.) Roasting makes for some late nights
2.) Roasting and drinking coffee truly is a social/friendship making experience
3.) Having it be a family business really makes for some great conversations with the kids and others
4.) We made the right decision to start this journey
How many times have you started something and wondered if this is the right direction to go? I know I have. As we have progressed in roasting we have found this has been the right step for our family and it has helped us in opening doors and relationships with people. I am always learning, and have found in the midst of sharing a cuppa of coffee your heart can expand for others if you hear their story.
People want to be heard and I have found many conversations start where there might not have been a connection but because of Keturah it's opened doors to talk about the Lord to talk about family to talk about their lives.
Thank you for helping open those doors!
New News
We are excited to announce we have bought another roaster and are expanding! Baby steps, baby steps!
Gaining Traction 3-2-16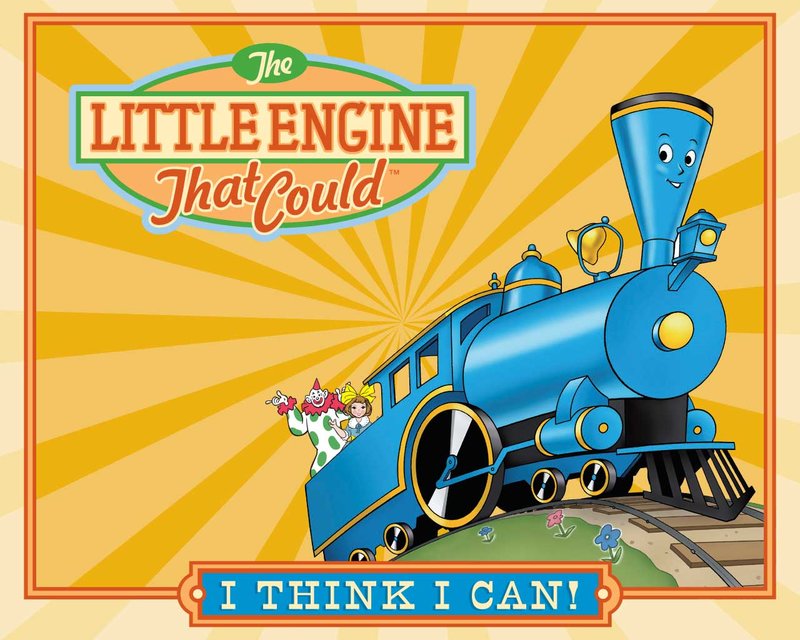 This week I have felt like the little engine that could starting to turn his wheels up the hill saying "I think I can...I think I can!" We have been reaching out to new customers and its been fun to connect with people who understand what we are doing and get excited about it. I have been learning that coffee roasting is not all just about coffee roasting. In order for this company to grow it also takes Coffee Selling! We have been trying to improve our packaging to include our story to help people connect with Keturah on a more personal level. I like local. I like to know the story of the company I buy from. So we decided to add more to our package. We have also been searching a bit more aggressively for more small to medium wholesale accounts. Lately it seems we are starting to pick up some traction. I am excited that this morning our coffee hit the shelf in our first grocery store. R&S Market in Vernonia has graciously given us a top shelf spot for our coffee. I am thrilled at the opportunity. Its fun to see our product on a shelf and think..."that's us!" I am looking forward to seeing where that leads us. Every little bit helps.
On another note we made traction with the FDA. Barb our Oregon Department of Agriculture inspector is also an FDA inspector and called us up and scheduled a thorough FDA inspection of our roastery and our process. We have a great relationship with our inspector because we called her from the beginning and included her input into the design and plans for our roastery. I recommend anyone starting a business do it that way...having an inspector come after a startup can start off on the wrong foot. So Barb came and we spent hours going over the details of our business. We roasted coffee and packaged coffee together. She asked about our customers, asked about our sales, scrutinized our labels...and looked over everything with a fine tooth comb. We even went over bio terrorism issues and our plans if we need to recall product. I am really glad I took the advice of an article I read in the last issue of Roast magazine and put together a Hazzard Analysis Critical Control Path Plan (HACCP) plan for our business. So when the FDA inspector asked if we had one...I was able to pull it out and present it. She was impressed! In all it was actually a pleasant experience. We are fortunate to have a wonderful inspector in our county. As long as you are willing to work with them they are willing to work with you. At the end of it all the only change we had to make was using a handled scoop instead of our cans for scooping and bagging our roasted beans.
Anyhow...we are at the bottom of the hill starting to chug our way up...like the little engin that could..."i think i can!"

Following The White Rabbit - 2-26-16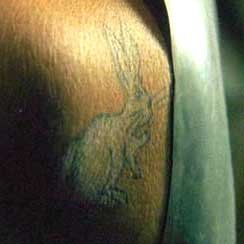 One thing I have learned on this business adventure is you never know whats around the corner. I have felt like Keanu Reeves chasing the white rabbit it the Matrix. You know its going somewhere but you dont know where. It seems building relationships and connecting with people has been the theme of the last few months. I have had fun watching the domino chains. I have met other roasters, coffee shop owners, and people in the coffee business who have taught and inspired me. The rabbits have been fun to chase. We put our coffee in one little local shop in December. We got a call a few weeks later from a shop out of town that wanted to carry our coffee as well. That connection opened up opportunities in another community. Another rabbit showed up. We are a small artisan roastery using a Sonofresco roaster and we shared our experience with sonofresco who posted our story on their website. The other day I got a call from a large roaster who sells more than 650,000 pounds of coffee a year wanting help with their new sonofresco sample roaster in their new coffee sampling room. We had the opportunity to connect with a big brother in the business. The people at West Coast Coffee were incredibly friendly and gracious and what a great connection to make. I have to admit I had a bit of roaster envy! It was interesting to see how their large huge Loring roasters worked. As a small start up business It was also good to see the potential for a great coffee business is. What a great rabbit! I look forward to seeing what other rabbits show up this year.
Floods, Storms, and Power Outages - 12-23-15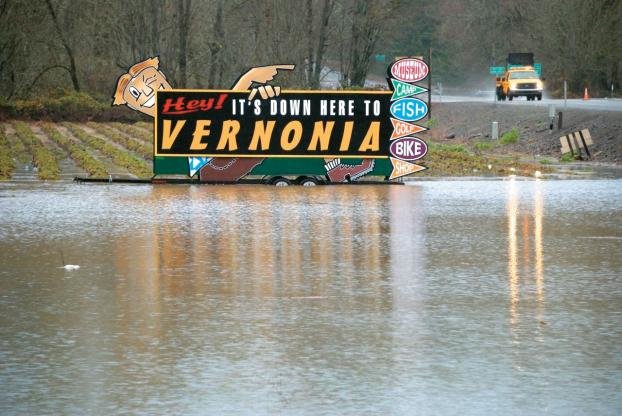 "Looks like the waters coming again." I said to my buddy Bob as we 4 wheeled through water running across highway 47 back to town. Living in the pacific northwest is amazing but not without its occasional floods and storms. As an X- New Yorker I'll take mild weather, rain, and wind any day over 6 months of hard snow and dreary days. But roasting through stormy weather with power outages can be a bit sketchy. One local roaster had a fire because of an outage years ago. That story was in my mind as I roasted cautiously this season.

Our roastery and home sit high up on a hill that will keep us dry through just about any floods. If we flood the whole Vally will wash away into the ocean. So we should be safe. That doesn't mean it doesn't affect us. In our town everyone drops everything and chips in to help those who are getting wet. Power outages were inevitable and people needed help, so roasting had to wait. Once the waters receded and everything started to get back to normal we had a rash of bad weather come in. More rain. More wind. Lots of limbs and timber fell on lines. This week we had another big wind storm drop lots of timber on lines.

On top of that we had the wind storm of Christmas orders. We had a rush of local Christmas orders, We had internet orders, and a new wholesale account added this season. Somehow we were able to accomplish all of it in spite of all the craziness. I am grateful we were able to navigate bad weather to get all our orders out.
What did I learn? Having a backup plan, back up fuel, and back up power is a must out here. Tim, one of the roasters I interviewed when researching this business mentioned that. He said, "This is the pacific north west, We live in an area where stuff happens, wind blows, and limbs fall, and outages are common." A Power outage can quickly start a fire with a roaster at 380+ degrees Fahrenheit and all of the sudden the blower and the lights go out. It can also put the stop on production. If the power is out for a few days or couple weeks and orders come in we need to fire up the roaster or it could mean a loss of reputation, sales, and customers. Lets just say that having a generator, natural gas, and even a back up way to hook up to propane are all good ideas for doing business out here.
This is one of those parts of the roasting business that most will never really have to deal with. This is just my honest experience and a lesson learned.

Again, Merry Christmas.
Merry Christmas From Keturah 12-17-15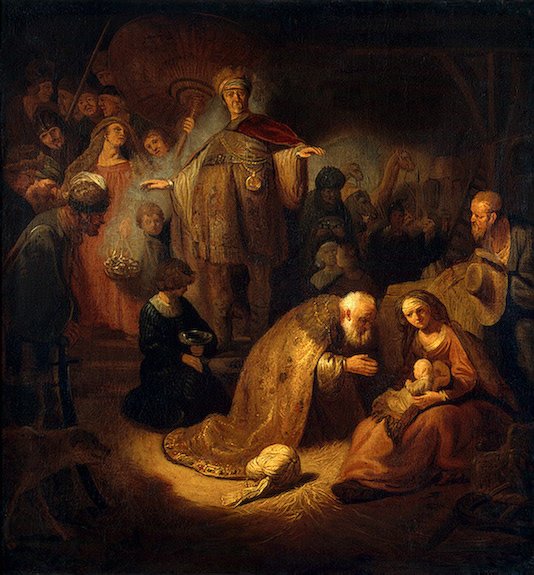 While not necessarily about coffee or coffee roasting we would like to take this opportunity to wish all of our customers a very Merry Christmas. Our coffee company is not a religious company but we as a family are a christian family. When I am not roasting coffee, I am a pastor who has dedicated my life to sharing the hope and grace that come with the arrival of Jesus our messiah on this earth. We have been selling coffee like crazy this season. It has been a blast. This is our first Christmas season as a business and it is easy to see how the hearts of men can turn to finance, money, and trade while forgetting the reason we celebrate in the first place. What was meant for celebrating the ultimate gift could easily be replaced by greed and selfishness if we are not careful. I pray that God will protect our hearts and this company from that road.

I pray that our customers will be blessed this season and that every cup of Keturah coffee enjoyed as a gift, or at family celebrations will be blessed. I pray that the aroma and fragrance of your coffee will remind you that God has brought the aroma and fragrance of an offering for you. That offering is the sacrifice of Jesus Christ who offers the forgiveness of sins to all mankind.

No matter what religion, race, or creed. No matter how good or how bad your life has been. No matter what your story is. The story of Christmas is the story of God reaching into your life to offer you his Son in sacrifice to trade you his goodness for your sin. The picture here shows people from all walks of life and religions celebrating the coming of Christ the ultimate King. May God bless you and may you have a very merry Christmas this year.

Our Name:

Keturah: The name of our company comes from the Old Testament biblical name of the Jewish patriarch Abraham's wife after his wife Sarah died. Keturah is one of the more commonly overlooked but special women in the Bible. At first she was Abraham's concubine then she became his wife. Keturah's marriage to Abraham is mentioned in Genesis 25:1. Traditionally she is known as the wife that he loved who comforted him after loosing Sarah. Ancient Rabbi's would point out that Keturah's name literally means fragrance offering. Her deeds were as fine as burning incense. It is taught that Keturah was a part of God's fulfillment of his promise to Abraham that he would be the father of many nations and that his children would be like the sand on the sea shore. All of her children became the fathers of nations. We thought this name fitting with our love for coffee and the wonderful fragrance and aroma of fine roasting coffee.

As we come to this Christmas season we celebrate God keeping another part of His promise to Abraham. He promised that all peoples would be blessed through him. It is through his marriage to his first wife Sarah and his son Isaac that the messiah has come to bless the entire world. Jesus Christ who was the son of David who was the son of Abraham was born in Bethlehem. They called him Immanuel which means God with us. They called him messiah because he was the promised savior. They called him Christ because he would be the sacrifice, savior, and gift God would offer to all mankind. They called him Lord because he was the lord of all. They called him king because he was Gods promised King who brings the Kingdom of God to our doorsteps. He is God in the flesh who comes to reach into our lives. Merry Christmas. May Jesus bless you all this Christmas.

When To Blend 12-4-15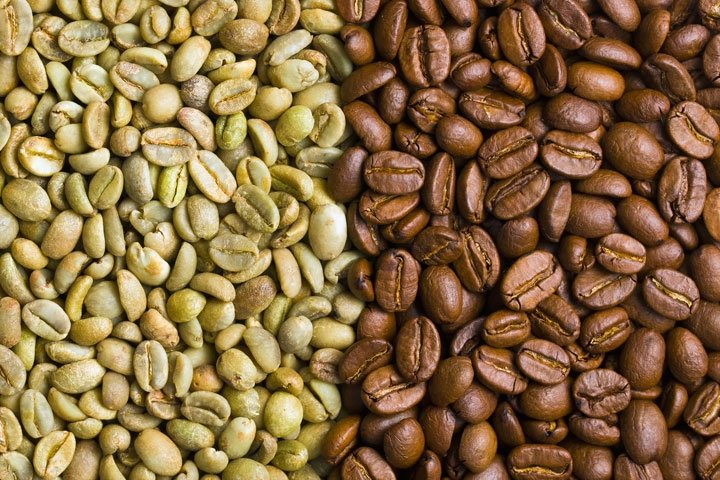 To blend or not to blend before roasting? I have talked with roasters, read articles, and blogs on roasting and everyone seems to say something different about blending their beans before or after roasting. I have personally roasted both ways. I have made great coffee both ways. I have also found that one way produces superior quality in the cup. My personal conclusions is this. Serious quality roasters tend to blend after roasting. The reason is simple. Because every bean type is different in density, flavor, and cell structure, each bean roasts for optimum flavor with different roast profiles. If a roaster wants to get the most flavor out of each bean in their roast then roasting the beans separately then blending them makes a good quality choice. If quality is the goal then this is the way to go. I have done both in the past but lean heavily most of the time on roasting separately.

The down side to this approach is volume and time. Its easier and more convenient to throw beans in a % ratio into the roaster together and roast them up in one shot. Bang roast done. But quality suffers. Quite often my blends include soft beans or medium beans like Brazils and Sumatras, and dense beans like high grown South Americans. I am not sure how to profile one roast that will bring out the best in all of the bean types at once. I have done this approach before but clearly get better results in the cup with beans roasted separately and blended afterwords. Because we are trying to be a quality small batch artisan roastery our approach with be to roast separately.

Experimental Roast Profiles 11-27-15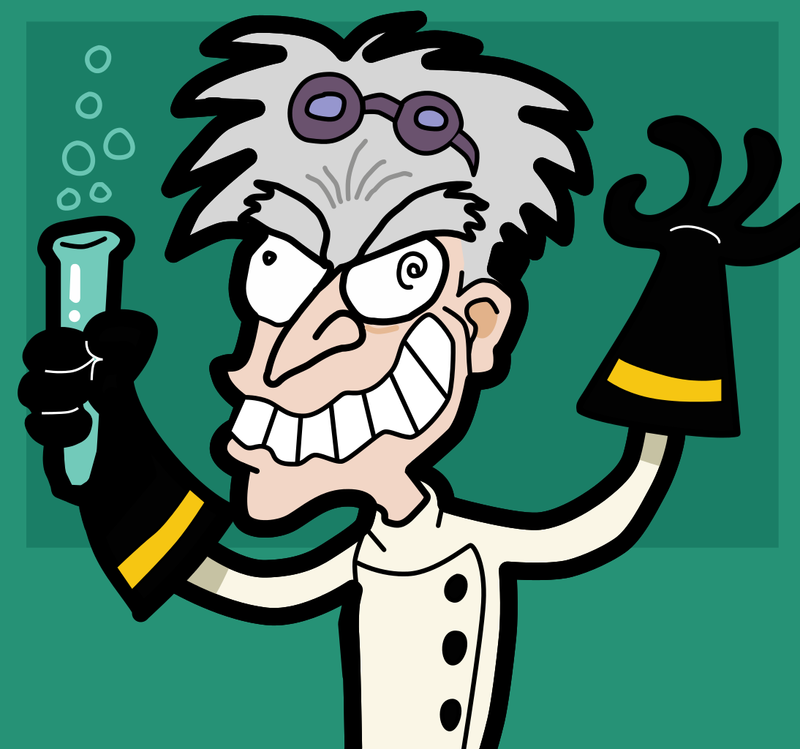 Its the day after Thanksgiving and I am thankful to have the opportunity to enjoy roasting coffee today. Kari's folks came down from Seattle for the holiday and they brought with them some wonderful bags of coffee that I ordered through Royal Coffee Importers. One of the bags is an estate coffee from Colombia and I can not wait to cup it. I took a holiday from ministry and spent the day in roast profile development and experimentation.
When we first purchased our roaster we invested in the ADR software for our Sonofresco machine. This software allows us to connect to our roaster with a laptop through Bluetooth. We are then able to set time and temp profiles specific to the coffee's we are roasting. It allows us to have the control and insight in our roasting that some of the super expensive commercial machines and software have. I have been trying to use what I have been learning through boot camp coffee and apply it to our coffee roasts.
So far I have created some nice compost of Ethiopian Yirgs that didn't turn out the way I wanted. Through Trial and error I expect to succeed. I have gone two ways with this experiment. I have crawled forward in one direction mildly tweaking our original profiles (the safe bets) and actually have cupped better coffee. Then I have gone totally off the map and from scratch started a crazy profile. I want something completely off the wall. I have been trying to make a light roast profile with a long first phase that ramps up late but drastically through first crack and has a shorter roast development time. My goal is to produce a profile that allows complex development of the beans in a slow drawn out first phase that brings out the most of the acids. I am trying to bring out the most of a Ethiopian yirgecheffe's fruitiness. Some say that it cant be done on a Sonofresco but with the ADR I think it can and I am going to get darn close!

So today has been experiment day. I made new profiles that worked great for our Brazil and Sumatra coffee's. I worked up a new profile for our Guatemala coffee. I worked up and roasted a profile for that Colombian that looks beautiful and smelled amazing at the A-point. In a totally different direction I also started playing with coffee flavor oils. I roasted up a batch of beans and lathered them up with french vanilla. The roasting room smells so good! In addition to adding some great new stuff today, I think we have improved all our coffee's today. So I am thankful.
I am Thankful to God for the opportunity to pursue this adventure with my family. It feels kind of like being we are monks tasting, flavoring, and experimenting with their beer, wine, or herbs in a monastery. This roasting room is our monastery and mad scientist laboratory.

The Learning Curve 11-17-15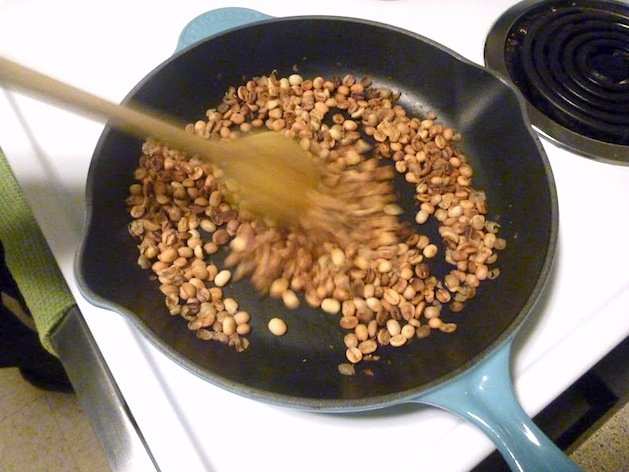 I actually had butterflies fluttering around in my in my gut while I watched darken beans darken and heard them crack like popcorn for the first time. I was exited and nervous. I had a frying pan in one hand and a little folded pamphlet about how to roast coffee in the other. Shaking the pan back and forth over my electric range, It was my first time roasting coffee. I had stumbled on Mr. Green Beans a trendy little Portlandy store that sells retail green coffee to coffee lovers. I bought some Brazil and some Java and roasted up what at the time I decided was the best coffee I ever had! The first time tasting fresh roasted coffee can be life altering. It was with that little frying pan that I discovered the world of roasting for myself. I learned about first and second crack. I learned about chaff and bean color. I learned about lots of smoke. It didn't take long for Kari to move my roasting endeavor outside to the grill burners.

I craved more. I started reading coffee blogs and websites like www.Coffeegeak.com and www.sweetmarias.com to learn more about roasting. I asked roasters lots and lots and lots of questions. I didn't have the budget for a good consumer roaster but I found an old popcorn popper in someones attic for free. I took the glass from an oil lamp fitting it to the popcorn popper I now had an air roaster with a window! My favorite part of that roaster was the way that it shot chaff into the air like a volcano and got all over everything. Eventually I took some dryer vent duct and ran it from the top of my roaster outside a window...My first chaff collector...lol. I learned more and more about bean color, consistency, and roast levels. I began to learn about beans and regional flavors. I learned about blending and the value of blending. I began buying beans by the 5-10 lb bags, it seems funny now that we buy beans by the 130lb bags and the pallet load. My first blend was a Brazil, Java, and Tanzania. It was very interesting and fun to play around with. Once we decided to make the step into commercial roasting we used up our savings and bought our first commercial roaster and had it installed in our house our learning curve has really ramped up.

We have read books on roasting. We subscribed to Roast magazine. We read the stories of other start up roasteries and the how toos and how not toos. One of the most valuable things we did was this. I found contact numbers for roasters and called them up. I had a list of questions and I just asked politely and honestly saying, "I am starting a roasting business would you be willing to let me ask you some questions about roasting?" I never had a negative experience with that phone call. Some roasters even agreed to sit down with our family and let us interview them in person. We even called up Tim at Vernonia Coffee Roasters down the street from our new operation and he was incredibly cool, resourceful, and helpful. Up till now we have mostly been been "self taught." We have learned a ton just by actually commercially roasting for the last year and letting our own taste buds and the feedback of our friends and customers educate us. But, we have decided its time to get some more formal style education.

Eventually we will join the roasters guild, but for now we are going to start with Boot Coffee. Because I am a full time pastor by day and masked avenger of a coffee roaster by night, and Kari is a full time home school mom, dog washer and watcher, pastors wife, and both of us are incredibly busy we are not going to be going to a formal roasting school any time soon. I am not quitting my first calling to be mentored by a master roaster. So, we have been looking at the online courses for some formal training. We already have our classroom roastery at home. We decided to invest in the online boot camp coffee courses at https://bootcoffee.com and work towards earning the Boot Camp Certificate of Completion. We are Just days into it and we are already glad we did it. I expect our coffee quality to raise as our learning curve does. Like the bean temp with the exhaust temp on a roast profile they seem to elevate together. We are hoping this investment will help take our business and our coffee to the next level. I have the same butterflies and excitement every time we open a class module and fire up our roaster today that i had when I dropped those beans into that pan my first day roasting.

Coffee and Community 11-13-15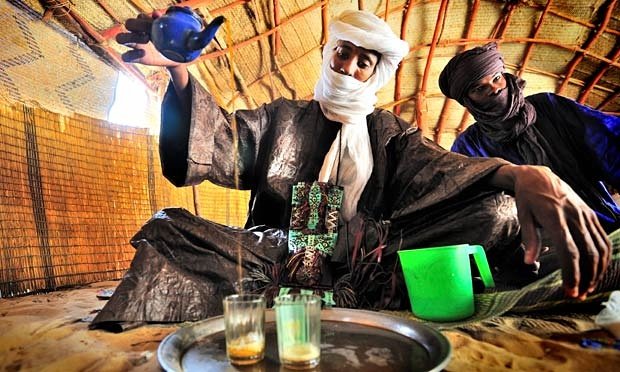 I can still remember sitting around a circle of men watching someone brew tea in Mali west Africa. Coffee wasn't a thing there but tea was huge. What I noticed about tea was that it was less about the drink and more about the community built around it. People loved their tea. Tea was about the people you were with. Before work...tea with the people your working with. After work...tea with people your socializing with. Evening visiting...tea. Business...tea. Coffee has been that for me.
Coffee has been that unseen bond that has created community and friends in my life. Its been a part of my job. I have studied, written, preached, and taught with coffee there beside me. I have counseled with coffee. I have had business meetings over a steaming coffee cup. I can't think of how many times we had friends over and "where is the coffee?" is the question everyone asks. For me, good coffee is important and adds to our community. Now, we have stepped up our coffee at home because of our business. We use better machines, more expensive grinders, and have higher grade beans with a fresh roast. It gives me joy to share our coffee experience with our friends. I love handing someone a coffee when they come into the door.

We want our business to keep that side of coffee alive. The fun, connection, comfort side of coffee. As we learn and grow in our knowledge of the coffee world and industry my goal is to keep that side of coffee at the front of our mind and company.

We are the Micro of Micro-roasters 11-12-15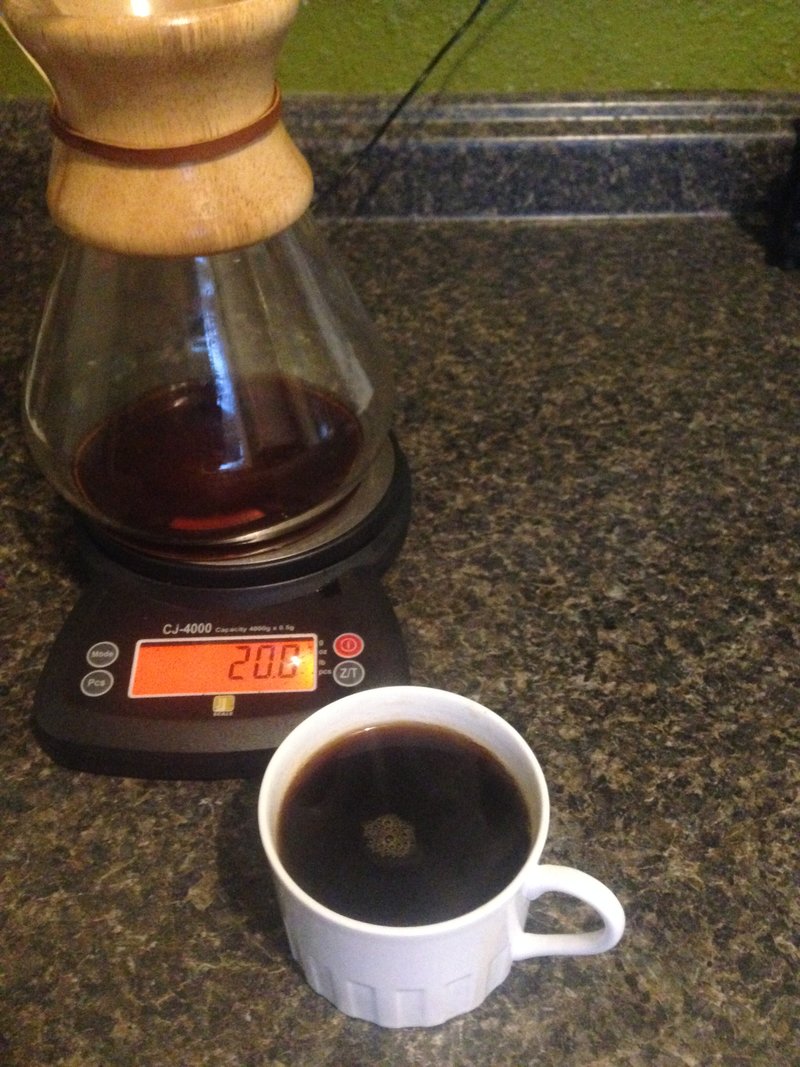 I was reading roast magazine yesterday about who the winners of this years roasting contests were. One thing really stood out to me when reading about this years winners in the micro-roasters category. I noticed How much larger the micro roasters who won this year are than our operation. There was a picture of several guys sitting on big pallets of green beans in a coffee shop that was part of the business. If that's micro then we are microscopic with our 2lb roaster and small space in our house. I was laughing with my friend Mat today saying, "I guess we are the microscopic roasters. We are the mini micro-roasters." Yet, you have to start somewhere don't you? It has been good for us to start small. We have learned a lot and we have come a long way.

It has been almost a year since we first started dreaming up this business. We have learned so much. We have been learning the ins and the outs of coffee roasting with our fluid bed Sonofresco roaster. We have roasted up some great coffee and explored the world of buying green beans. We have taken many trips up to Seattle and loaded up the pickup with bags of beans imported from all over the world. We had a hectic summer selling fresh roasted coffee at the Vernonia Saturday Market where we made some friends and met people in our community we never knew before. We have seen our coffee go to New York, Georgia, Texas, D.C, Alaska and Utah. We have gathered a wonderful group of friends and coffee fans. Starting this month local Vernonians can buy Keturah coffee locally not only from us but from also from a local gift shop called "Out On A Limb." Check this quaint gift shop out on Facebook here Out On A Limb.

Our local paper "The Vernonia's Voice" did a fantastic article introducing us to our community as a Vernonia coffee roasting company. You can see the article here. Keturah Article. I have been forcing myself to learning the ins and outs of working with this web-store and Facebook marketing. We have worked on our Facebook page https://www.facebook.com/Keturahcoffee/. Please like our page on Facebook, follow us, and enable notifications. This project has engaged our kids as well. They have had fun learning to roast, sell coffee, work the Saturday market, and work side by side with us. All in all, its been a good year and we have been off to a good start.